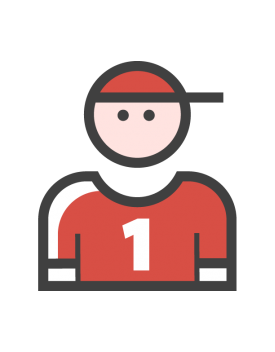 Justin "Virg" Virgulak graduated Stamford High in 2013 after being a part of the Stamford High Baseball Program all four years as a pitcher and outfielder. Virg walked on at Springfield College as a dual position player, playing three out of his four years. Virg missed his senior season due to an internship with The Ripken Experience in Myrtle Beach. Graduating with a Bachelor's in Sport Management and minors in Sport Stat Analytics and Business Management.
Virg started at BVSA as a player in 2006 while training with Mike Abate and other BVSA instructors. He returned to BVSA in 2017 and his roles continue to evolve and grow everyday. He is the ultimate flex guy. Virg leads our graphic design, social media accounts, newsletters and overall marketing calendar. He also maintains the entire facility, stays until past midnight for our adult soccer groups, works the front desk, works BVSA baseball programming and throws countless hours of batting practice for Ramp3 Baseball.
He does all this while managing a seemingly endless collection of baseball cards, MLB hats and matching socks, that he rocks everyday! His love of cards turned into another business called First Glance Box Breaks. You can see the tiniest possible spec of his total collection at the front desk of BVSA, next to the snacks!
Subscribe to our Newsletter!