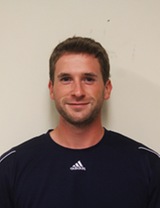 Ryan is the varsity head coach of King School baseball team.  Previously he was the head coach at Rye Country Day School where he led the Wildcats to a 14-4 season and a FAA tournament and regular season championship in 2017.  Ryan has coached many travel teams winning tournaments from Long Island to Pittsburg.  He also coached with Elms College, a Division 3 program in MA.  
Ryan played professionally with the Worcester Tornadoes of the CANAM League for 2 seasons.  He went to college at Southern New Hampshire University where he was captain his senior year and a Northeast 10 All-Conference pitcher, as well as top ten in the country with 100 strikeouts that year.  Ryan was a two-time All-State player and 3-time All-Conference selection for Lyman Memorial High School in Lebanon, CT.  He led the state of CT in home runs in 2004 with 10 and threw two no-hitters.  He was the MVP for Zone 7 Legion in 2005, hitting over .400 and have a 1.20 ERA.  Lyman Memorial won two regular season and tournament Championship
Ryan has specialty in training pitching, hitting and the mental aspects of the game.  As well as being an instructor and coach, Ryan is a teacher in the Stamford Public Schools with his Master's in Education and his BA in History.