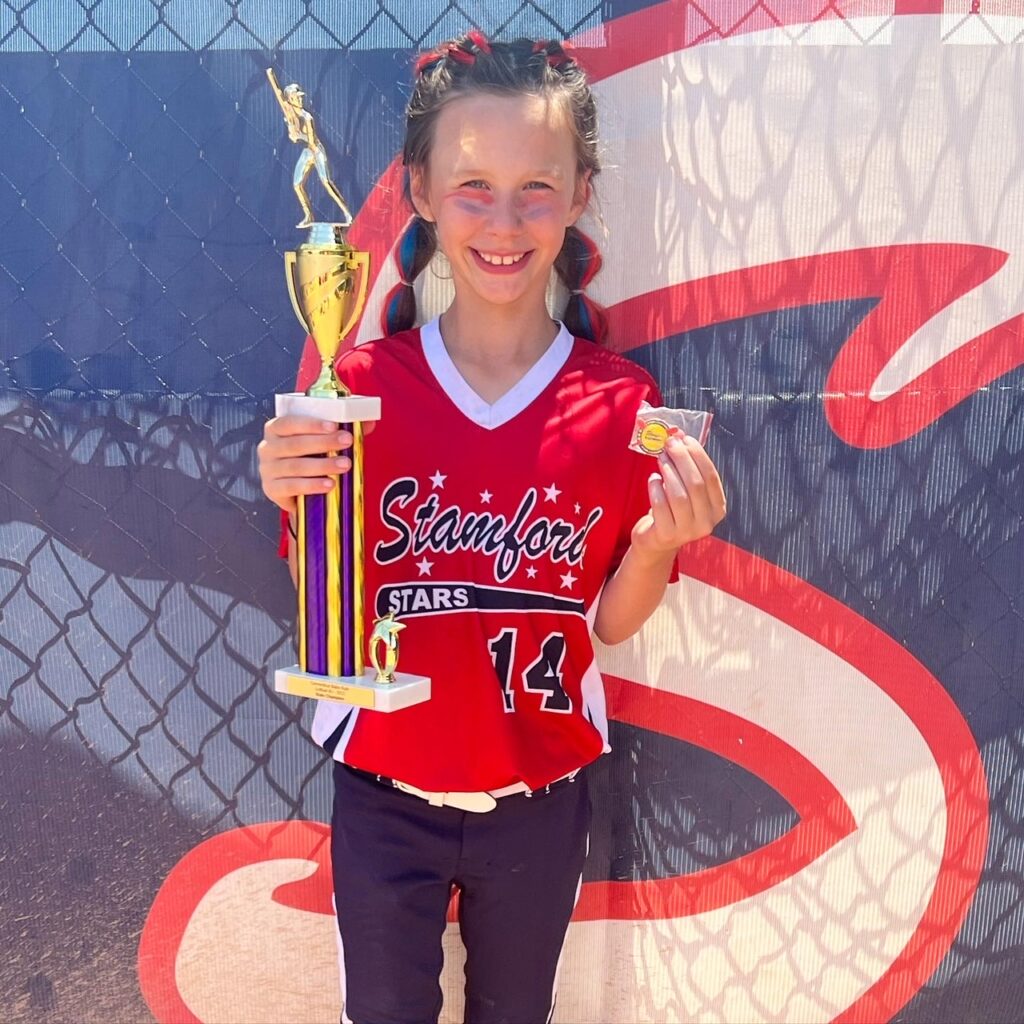 "At BVSA, Coach Matt and I do a ton of birthday parties… probably close to one hundred parties per year. They all vary in sports played, competitiveness between the kids, and time spent on each of a minimum of 2-3 sports.
Ava had her birthday party here last year and her and her teammates played ninety minutes of a legit softball game. We were blown away, we could not believe this is what the girls wanted to do and it was some of the most fun we ever had as coaches working a birthday party."
— Joe Wanderlingh, BVSA Instructor
Bobby Valentine's First County Bank Athlete of the Month for July is Ava Quinlan! Ava is going into fourth grade at Springdale Elementary School,  and currently plays for the Stamford Stars 8u Red team. This isn't just any 8u softball team, this team just recently earned a spot in the Babe Ruth World Series in Jensen Beach, Florida. Surprise, surprise, Ava was just awarded Player of the Game during the World Series Tournament!
Ava has played for the Stars for the last five years, starting at just four years old. This is her second year playing travel softball, and it has certainly been a successful one. She is hitting .614 and leading the team in RBIs with 26. She leads the team with 15 extra base hits, including her first career home run in the State Championship game. She ended up hitting for the cycle that game and took home MVP honors along with the championship trophy. 
Ava trains at BVSA in the offseason with Coach Danielle doing both hitting and pitching, and she has already verbally committed that she wants to work here when she is older.
Other than softball, Ava loves dancing at Center Stage Dance Studio and plays basketball for the Stamford Young Timers. Her favorite baseball team is the New York Yankees, with her favorite player being Aaron Judge. In ten years, you can find Ava starting at second base or on the mound for the University of Florida, as she already knows she wants to be a Gator.
We here at
BVSA
want to congratulate Ava Quinlan once more for earning this honor of
First County Bank
Athlete of the Month for July. She has made history as the youngest BVSA Athlete of the Month we've ever had, and we cannot wait to see her continue to grow into her game. Congratulations, Ava!