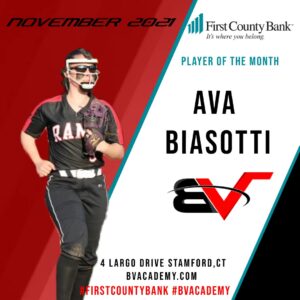 Our First County Bank Athlete of the Month for November is Ava Biasotti from New Canaan. Ava, now seventeen years old, has been consistently adding to her extremely impressive resume since the age of five. From a very early age, she was representing her town in multiple all star tournaments. It was around the age of ten when she really started to fall in love with softball, particularly as she continued to develop as a pitcher.
Ava began her travel softball career at the age of twelve, where she solidified her primary position as a pitcher. However, when she was not pitching, you could find her over at the hot corner playing third base. She quickly became known for both her pitching velocity and also her movement on her pitches. Her control followed very shortly after that. By the time she was sixteen, she was regularly racking up the strikeouts and had already enjoyed multiple tournament championships with her fellow CT Angels.
The local competition was fun and all, but Ava really wanted to challenge herself. She really wanted to go up against the very best. She earned herself a spot on a national team with the Jersey Intensity organization, giving her that exact opportunity to go face some of the best competition in the country.
She was able to pitch in high profile tournaments including the Texas Bombers Showcase, IDT in Colorado, and PGF Nationals in California, where the norm was facing Power 5 Conference commits. She has continued on with the organization with their 18u team, and is looking forward to attending these events again in 2022.
In addition to travel softball, Ava absolutely loves representing New Canaan High School by taking the field with the same girls she first started playing softball with. She has been starting on the mound since her freshman year. She has received honorable mention in All-FCIAC both her freshman and junior year, as well as being selected to the Junior Select L/LL game.
Ava is a senior, she is an honors student, and she is a member of the National Honors Society. She is enrolled in and enjoying multiple AP and Honors classes across her curriculum, particularly really taking a liking to science and her Mandarin language classes. She plans to pursue Astrophysics and Aerospace Engineering in college. She recently accepted an offer to continue her academic and softball career for the Bowdoin Polar Bears.
You can most often find Ava working on her spin and her swing, but especially in the winter you can find her snowboarding down the slopes in Southern Vermont. If not there, try the New Canaan Softball League, where she spends a significant amount of time volunteering. She helps out with both team practices and pitching clinics. Bottom line, Ava cannot get enough softball, as she loves giving back and helping those coming up the ranks behind her, in addition to playing. She genuinely loves surrounding herself with both coaches and players who are just as committed to the game as she is.
We here at BVSA want to congratulate Ava once more on earning this honor of First County Bank Athlete of the Month! The hours of hard work and success both on and off the field do not go unnoticed. We are excited to see what the future has in store for you! Congratulations!