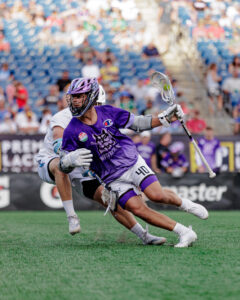 Bobby Valentine's First County Bank Athlete of the Month for September is Connor Kelly. You very well may have heard the name before as Kelly is currently playing in the PLL for the WaterDogs, where he is already a two time All-Star and two time champion.
Kelly started playing at Wakeman Boys & Girls Club in Southport when he was seven years old. He attended Fairfield Prep and then Avon Old Farms where he played both football and lacrosse. He was a two time captain in both sports and won a MVP award in both sports as well. From there, he went on to the University of Maryland and won a national championship. He currently holds the record for most goals by a midfielder in Maryland history.
Outside of football and lacrosse, Kelly loves competing and playing all sports. He is a part of a family of six, and grew up in Fairfield. He is an avid New York Jets fan and UConn basketball fan. To this day, Kelly still lives in CT and continues to coach lacrosse in the area.
Kelly's awards and accomplishments include…
2017 Big Ten Tournament MVP
2018 Big Ten Offensive Player of the Year
2016, 2017, 2018 First Team All Big Ten
2016, 2017, 2018 NCAA All Tournament Team
2017, 2018 First Team All America
We here at BVSA want to congratulate Connor once more for earning this honor of First County Bank Athlete of the Month for September. It has been a pleasure having Connor around our facility as we get to witness him continue to live out his dream! We wish him all the best moving forward in his career!