First County Bank and BVSA Collaboration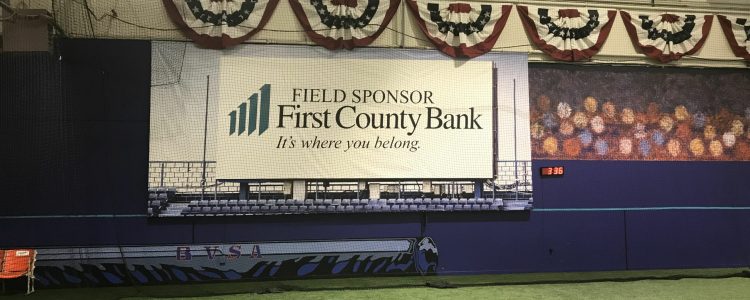 First County Bank and BVSA Collaboration
First County Bank along with Bobby Valentine and his team are excited to announce a new collaboration between First County Bank and the Bobby Valentine Sports Academy (BVSA). First County Bank is now the official field sponsor of BVSA's new 40,000 square foot indoor sports facility.
BVSA has been in Stamford for over 12 years and recently moved into its new facility located at 4 Largo Drive in Stamford, CT. The new BVSA building boasts 40 foot ceilings, a 15,000 square foot turf field, two multi-surface areas and six batting cages. On any given day, you can observe one-on-one baseball and softball instruction, team practice on the full field, lacrosse skill training and IQ development, soccer team/small group training, football practice for local high schools and even large scale community events that can host over 800 guests. 
"First County Bank's relationship with Bobby Valentine and BVSA is exciting to the Bank and exemplifies its mission to support local communities in Fairfield County. The BVSA facility is quickly becoming a sporting home for young athletes and families in Fairfield County, and hosts corporate events, fundraisers and sporting tournaments," said Rey Giallongo, Jr., chairman and CEO of First County Bank. "The functionality of the facility and its multi-sport activities provide opportunities for the community to train, network and create lasting relationships which supports our strategic community-minded mission."
"First County Bank has been servicing our community since 1851. They have a personalized approach to customer service as does BVSA. We believe when you find a partner that treats others the same way you do, it makes for a great like-minded relationship," said Bobby Valentine. "I am thrilled with our partnership with First County Bank. Teaming up with such a great local banking institution is an honor." Mr. Valentine is a Stamford native and has been a First County Bank customer for most of his life. 
Excerpt from: http://www.stamfordplus.com
Here at BV Sports Academy, we are a passionate group of dedicated baseball and softball instructors with some pretty impressive resumes. More importantly we have been educated by Bobby Valentine himself. If you don't know who Bobby V is, it's worth a quick google search. We teach a proven curriculum which has developed some of the finest talent in our area, and we're just getting started. BVSA was founded in 2006 and has been growing steadily ever since.
We have been blessed to be joined by some of the top programs around when it comes to other sports like lacrosse and soccer. Check out our valued partners section above to learn more about them. Parties and events for all ages, we do those too!
There is something for everyone at BVSA. We look forward to helping all athletes become the best they can be. If you would like to book anything or have any further questions, please email [email protected]