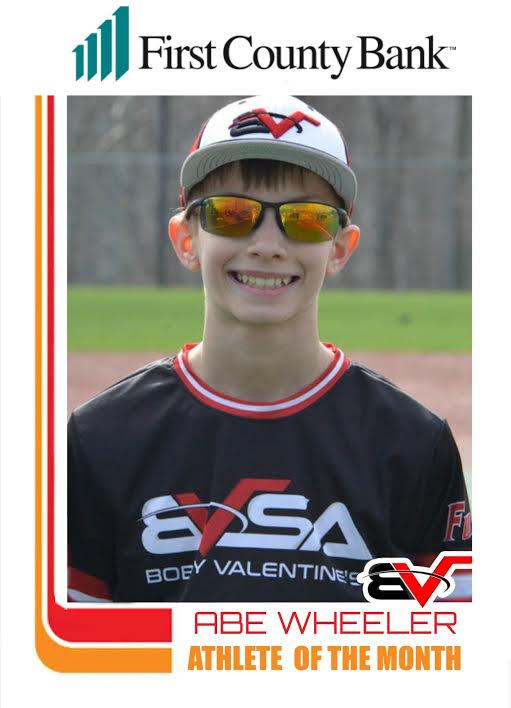 Our first Athlete of the Month goes to our very own Abe Wheeler. Abe's story and work ethic are inspiring.
Last fall Abe was losing weight and suffering from intense stomach pain. He was missing a lot of school and really lagging in football. He made many visits to doctors and specialists trying to find out the cause. He underwent countless tests and procedures.  He tried multiple medications and dietary restrictions with complicated regimens – all of which he adhered to with great self-discipline. Nothing worked.
In January, after a series of remarkable events, he was tested for a condition called MALS – Median Arcuate Ligament Syndrome. On March 1st he tested positive and underwent a serious open abdominal surgery. The surgery was performed by the leading MALS specialist in the country who is miraculously based in Fairfield, CT. Abe rallied and blew all the nurses and doctors away at his speedy recovery. He spent only three of the six predicted nights in the hospital. He missed half the school time the doctors expected. As of today, he has gained back 7 of the 10 pounds he lost and is back to his energetic and fun-loving self!
The more we learn about MALS, the more blessed we feel to have found it so quickly, to have had it successfully treated and to see his physical stamina returning way ahead of what was anticipated.  Watching him slide face first on the ball diamond with zero inhibition this weekend reassured us he's back!! Abe loves baseball and the boys/coaches he plays with. He has a carefree confidence at bat, and his timing and swagger are returning.  He sports an impressive new "zipper" (scar) and he's proud to show anyone who asks – or doesn't ask for that matter.
– Wheeler Family