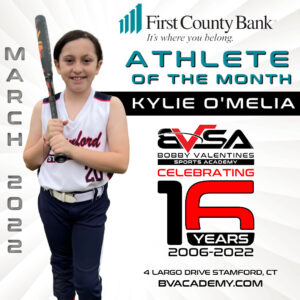 Bobby Valentine's First County Bank Athlete of the Month for March is ten-year-old Kylie O'Melia. Kylie is currently in 4th grade at Strawberry Hill School in Stamford, and entering just her second season of playing softball. Despite it being her first full year of playing, she was able to make the Stamford Stars 10u travel softball team. How was she able to do this??…
"She is the most dedicated 4th grader we have in the facility. She is working hard to be the best she can be. She pushes herself to do better with each lesson. When she is not training with me, she is working with her dad here twice a week. The best three words to describe her are driven, dedicated and determined!" – Danielle Simoneau, Softball Instructor
In addition to her dedication, she is extremely versatile. She can be found all over the infield, from pitcher, to both corners, or even behind the dish. She always has a positive attitude, a smile on her face, and when you hear someone screaming from the dugout cheering on her teammates, that is Kylie you hear.
On the rare occasions when she is not playing softball, you can find her playing basketball or doing boxing training. You read that right, do not mess with Kylie! She also did gymnastics for years when she was younger, so it has always been nonstop sports for Kylie.
Kylie is all for new challenges, whether on the field or in the classroom. Her favorite subjects are math and science, and wants to be a scientist when she is older. That is of course after her collegiate career playing softball for the UCLA Bruins.
We here at BVSA want to congratulate Kylie once more on earning this honor of First County Bank Athlete of the Month for March. Her dedication and commitment to so many activities at such a young age is absolutely remarkable, and we are so excited to watch her continue to grow both on and off the field!