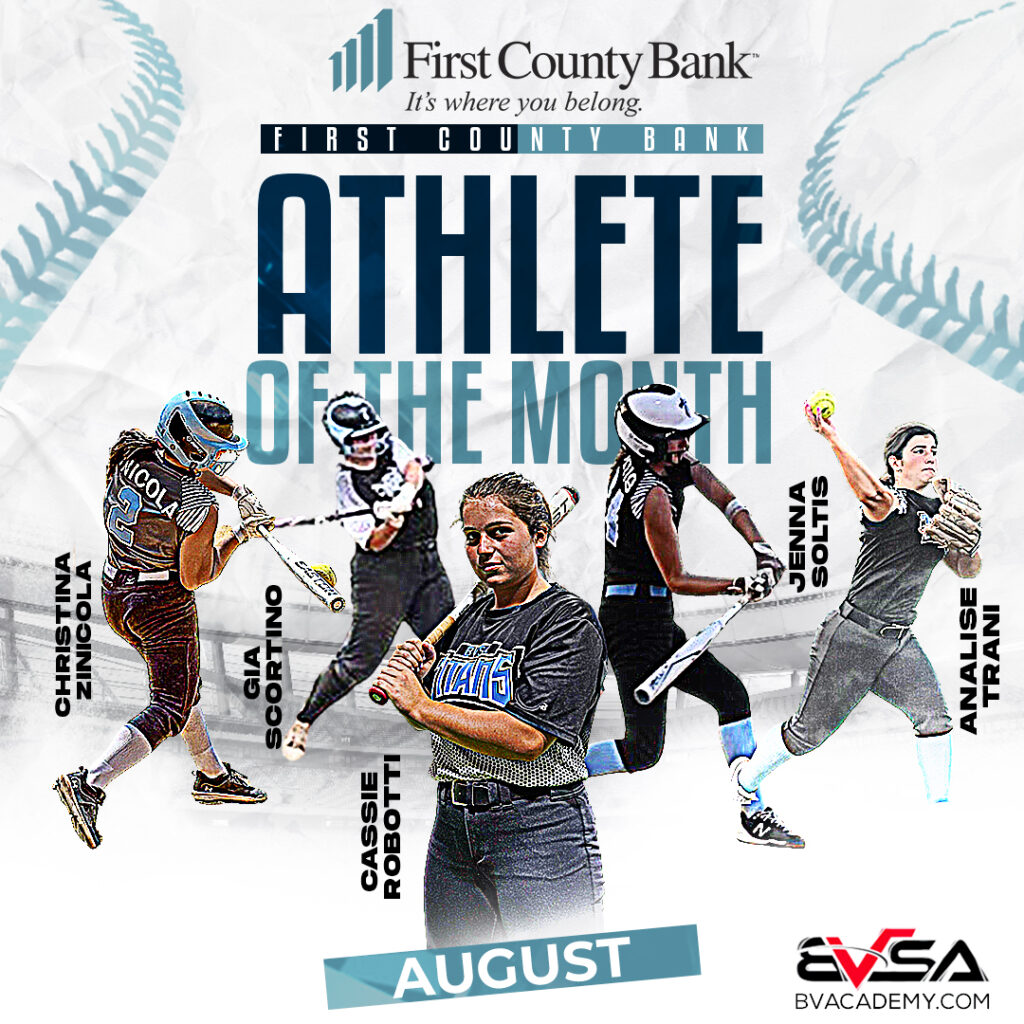 At Bobby Valentine's Sports Academy, we believe in celebrating the achievements and growth of our young athletes. This August, we have something truly special to share with you as we honor not one, but five outstanding athletes who have graduated from high school and are taking the next big step in their academic and athletic journeys. These remarkable individuals have been a part of the Lady Titan's program, and their dedication and passion have shone brightly throughout their time with us. Without further ado, let's meet our August, First County Bank, Athletes of the Month.
Gia Scortino:
Gia Scortino has been a vital part of the Lady Titan's program since she joined us at 14u. Over the course of four years, Gia showcased her skills on the field, primarily as a first and third baseman. Her journey reached a significant milestone when she graduated from Norwalk High School. Gia's leadership qualities were recognized when she was named softball captain during her senior year. She's not only a fantastic player but also the "mom" of the team, offering guidance and support to her teammates. Gia is now furthering her education at Keene State College in New Hampshire, where we have no doubt she will continue to shine.
Analise Trani:
Another Lady Titan's stalwart, Analise Trani, joined the program at 14u and played as a third baseman for four years. Analise graduated from Greens Farms Academy and has made the exciting decision to continue her athletic and academic journey at Western New England in Springfield, MA, where she'll be playing Field Hockey. Her two-year stint as a softball captain at GFA showcased her leadership skills. Analise is known for her team spirit and creative team nicknames like "St. Joes" and "Stormy." Her pre-inning tradition of gathering the team for a game of rock, paper, scissors is a testament to her ability to bring positivity and camaraderie to the field.
Christina Zinicola:
Christina Zinicola, who joined the Lady Titan's program at 14u, spent four years primarily playing second or shortstop. After graduating from Stamford High School, Christina has taken the next step in her academic journey at Manhattan College. Her senior year at Stamford High saw her being named softball captain, reflecting her leadership on and off the field. Christina is known for her fearless playstyle, never shying away from taking the extra base or making a spectacular diving play. We can't wait to welcome her back next summer.
Jenna Soltis, aka "Jenny from the Block":
Jenna Soltis, affectionately known as "Jenny from the Block," joined the Lady Titan's program at 18u and played as the starting centerfielder for two years. Graduating from Wilton High School, Jenna has decided to further her education at Ohio State. Much like her namesake, Jenna was a speed demon on the field, always taking the extra base and being an aggressive base runner. Her leadership qualities were recognized when she was named softball captain at Wilton High during her senior year.
Cassie Robotti:
Last but certainly not least, we have Cassie Robotti. Cassie started her journey with the Lady Titans at 14u, initially playing baseball before transitioning to softball. As a middle infielder, primarily at shortstop, Cassie displayed exceptional skills and dedication. Currently pursuing her education at Penn State, Cassie graduated from Stamford High, where she served as a softball captain for two years.
We are immensely proud of each of these talented athletes and their achievements both on and off the field. They exemplify the values of teamwork, dedication, and leadership that we hold dear at BVSA. While they may be moving on to new adventures, they will forever be a part of the BVSA family. Congratulations to Gia, Analise, Christina, Jenna, and Cassie, our First County Bank, August Athletes of the Month! We can't wait to see the incredible feats you'll achieve in the future, and we look forward to welcoming you back whenever you're in town. Good luck, and keep reaching for the stars! 🌟🎓🥎
Stay tuned for more inspiring stories from BVSA, where we celebrate the excellence of our young athletes month after month.