First County Bank Athlete of the Month – Jack Hoch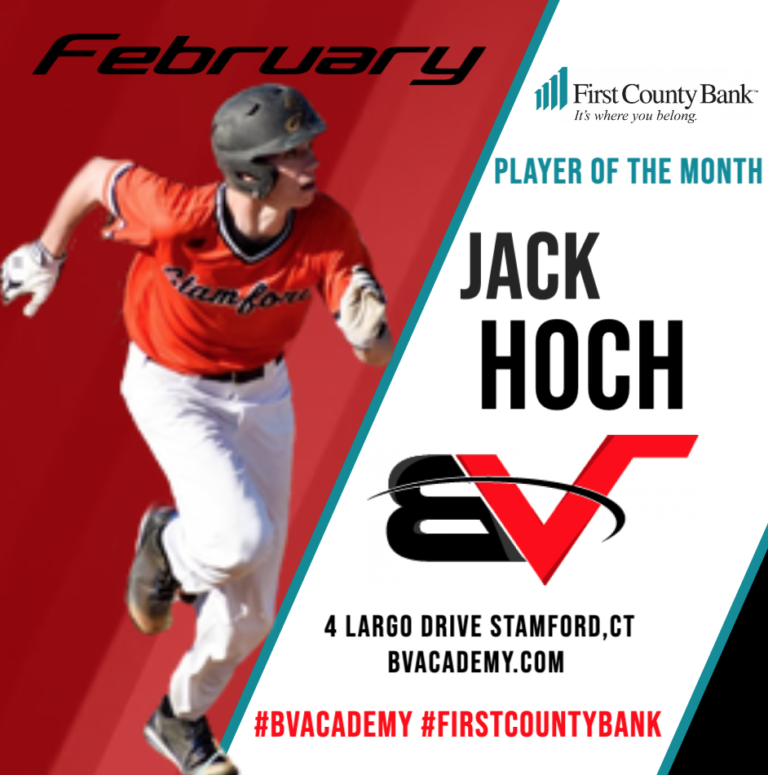 Our January, First County Bank Athlete of the Month for January 2021 is Jack Hoch. Hoch is a 17 year old senior, switch hitting, captain at Stamford High School. The leader of the Stamford Black Knights team is one the most diligent, respectful and hard working athletes we are blessed to have coming into the Academy. Hoch in his senior year has plenty to concern himself with; school work, applications and school interviews. However, Hoch is the only captain on the Stamford roster and has taken complete responsibility for his squad's winter workout. He is both leading the charge but more importantly leading by example.
Hoch is a big, lean, strong athlete who has found a home in the outfield and on the mound. His ability to cover ground out in that wide open space and have nerves of steel on the bump make him a dynamic player for Coach Rit Lacomis this upcoming season. 
Lacomis had this to say, "Jack is extremely deserving of this recognition. He's a tremendous baseball player, fantastic student, and even better person. Jack brings everything a coach wants in a player to the SHS Baseball Program and uses it to continuously make everyone around him better. He is someone that willingly leads his peers and is looked up to by underclassmen. Although Jack's on-field contributions to the SHS Baseball team are important, his main value to our program runs much deeper." 
Although, what makes Jack Hoch even more impressive than anything we could say about his baseball skill and acumen is the level of achievement in school and what he does off the field. Hoch maintains a 3.96 GPA with the lofty (but achievable) goal of going to an academically competitive college with the plans to study neuroscience this coming fall. The school has yet to be determined but Hoch's drive and ability to persevere will make this endeavor an awesome journey for our Athlete of the Month.
Jack has lived quite a baseball life, starting out as the die-hard Mets fan those around him have come to know and love, his playing career started in Stamford at just 4 years old. Hoch played in what is formerly known as Springdale Little League (now Stamford North), then progressed to Stamford Babe Ruth where at 15 years old Hoch made the 18U roster. In addition, Hoch got a lot of experience from his fall seasons with the Connecticut Blue Jays in Hartford as well. The best experience of Hoch's baseball life has to be his coaching the Stamford North Little League 10U All Star team, where he passed on his knowledge and experiences to each of those dedicated players.  
Coach Conte at Bobby V's had this to say about Jack, "Jack is the kind of person you bend over backwards to make time to work with!  He schedules his own training sessions, maximizes every minute of his training, somehow finds time to work in some Met's or current science banter and he's walked to BVSA in the rain multiple times!  As a coach we get blessed with a handful of players who push us to be better coaches and people.  Jack is definitely one of those people! The maturity and dedication to excellence is something we can all learn from.  Can't wait to see what he does this spring for baseball as well as through and after college, beyond baseball.  My personal prediction after baseball, he helps solve some major health crisis in the future!!"
It is exciting to see what the future holds for Hoch, but without a shadow of doubt it will definitely be a bright one. A lot of things to look forward to; a senior season, getting accepted to the right college, and starting that next chapter of his journey.  We at BVSA who have seen you coming in over the past decade want to say congratulations and that we cannot wait to see what unfolds very soon. It is great to have such a shining example of what hard work and determination can create!