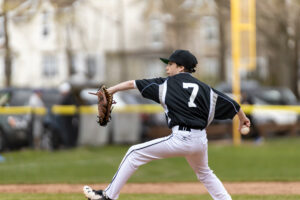 Bobby Valentine's First County Bank Athlete of the Month for April is Cooper Gendason. Cooper is finishing up 7th grade at New Canaan Country School, where he has attended since he was in kindergarten. He has competed in both baseball and soccer since he was four years old, and combine that with having three siblings, safe to say Cooper is used to competition.
"Cooper gets it. He wants to train regardless of the results in his games. He has been doing nothing but hitting home runs these last few weeks, and he is still here at BVSA working on his swing constantly. He is an incredible athlete, and an amazing role model for his little brother, Peyton. He is an absolute joy to have around the facility, and so exciting to watch grow into the ballplayer and leader he is turning into." – Joe Wanderlingh, Baseball Instructor
Baseball started for Cooper playing through Stamford North Little League, playing for both house teams and all-star teams. He currently is blasting home runs for the New Canaan 12U travel team, and he is really looking forward to upcoming summer trips to Aberdeen, Maryland and Cooperstown, New York. He's going to be looking to make that place Cooper's town (sorry, too good not to use).
When he isn't playing baseball, Cooper is on the soccer field. It started with the New Canaan travel team, and then he joined the Chelsea Piers Shoreline premier team two years ago. He mostly plays midfield.
Cooper roots for New York for the most part, being a fan of the first place New York Yankees and the playoff bound New York Rangers. The one exception is in the NFL, where he is the biggest Denver Broncos fan you will ever meet. As if the Yankees and Rangers weren't enough excitement for him, he gets to look forward to the Russell Wilson era beginning in a few months.
We here at BVSA want to congratulate Cooper once more on earning this honor of First County Bank Athlete of the Month for April. His work ethic and commitment to the game are amazing to see, and we are so excited to watch him continue to grow both on and off the field!