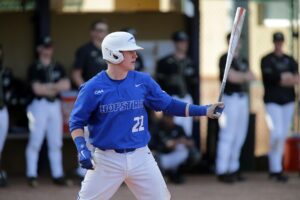 Bobby Valentine's First County Bank Athlete of the Month for May is Hofstra University's starting catcher, Kevin Bruggeman.
"The kid has always been obsessed with putting in the work. The sacrifices and growth we've seen him make over the years combined with his instincts, natural talent and genuine love for the game are infectious. He's constantly raising the bar for everyone around him. It's no surprise that he just put himself in the NCAA and Hofstra baseball record books. Can't wait to see what he does next!" – Anthony Conte, BVSA Director
What Anthony is referring to is the latest NCAA D1 Regional round of the 2022 College Baseball World Series. Hofstra made its way into the postseason for the first time ever after winning the 2022 CAA Championship, and faced off against the tenth nationally ranked team in the country, the University of North Carolina.
Bruggeman batted third and came up to hit in the top of the first with two outs and nobody on base. He took two close pitches just off the plate to put himself in a favorable 2-0 count. The next pitch made Hofstra history. Bruggeman's home run was the first hit, run, RBI, and home run in Hofstra postseason history.
"It's UNC, they weren't going to do anything fancy 2-0, so I was just looking for a fastball." – Bruggeman
Bruggeman's hard work and dedication were already being recognized leading up to this moment. He was named to the All-American D1 Baseball Strength & Conditioning team. On the season, he hit .330 in conference play with 4 HR and 21 RBI, and finished tied for second on the team in hits (33).
To take it a step further, Bruggeman was named captain during his junior and senior years at Trumbull High School. He was the first junior captain in Trumbull High School history!
Bruggeman's ties to BVSA go back to the days of Fury, where he played since 2013. His mother Danielle Simoneau has also been a softball coach at BVSA since its inception in the fall of 2006.
"Kevin exemplifies everything you want a player to be. He plays with passion, energy and a level above most around him. His grit and determination are looked up to by his teammates and opponents. He works at his craft like no other and it shows on the field. His efforts and production helped lead our team to multiple tournament championships and tremendous experiences for all of us. It seemed like whenever we needed a big hit or a big play, Kev delivered. He has a great appreciation for the game and although an intense competitor, there's always a smile and a joy for the game." – Frank Ramppen, BVSA Managing Partner
We here at BVSA want to congratulate Kevin once more on earning this honor of First County Bank Athlete of the Month for May. His drive and commitment to mastering his craft have put him in the Hofstra record books, and the best part of that is this is only the beginning… We cannot wait to see what he does next!