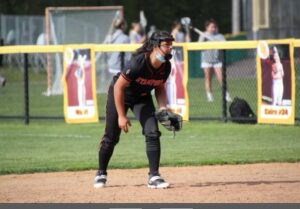 Bobby Valentine's First County Bank Athlete of the Month for October is Christina Zinicola. Christina made the switch from baseball to softball when she was seven years old, and made her first travel team two years later. In her first travel year, she helped lead her Stamford Stars team to a state championship! This was only the beginning for Christina.
After a couple of years with the Stars, Christina made the switch to the Darien Angels. She went on to BVSA and the Lady Titans, where she is now in her fourth season with the team. Christina plays middle infield and pitches for both the Lady Titans 18u team as well as Stamford High School, where she received all-FCIAC honors this year!
"Christina is one of the best players I've ever coached. She is the definition of a gamer and a treat to watch on the field. She'll make plays that could be on SportsCenter highlight reels and has a college level softball IQ. It's been such a pleasure to both teach and learn from her." – Ashley Simoneau, Lady Titans Coach
At Stamford HS, Christina is in her senior year and is currently taking all AP classes. She has also taken additional college classes at Norwalk Community College throughout high school, specifically studying software engineering. Last year, Christina was awarded a 2021-2022 College Board National Hispanic Recognition Scholar!
"Christina is a tough, tenacious softball player who consistently demonstrates her true passion for the game. Her drive and wanting-to-win attitude are remarkable. Christina is never afraid of getting dirty and is always thinking about taking the extra base. Christina's an extremely hard worker in the classroom as well. She takes multiple AP classes and already has an associate's degree. Christina is the true definition of a student-athlete." – Coach Beezer
The hope and plan for Christina is to continue playing softball in college, while majoring in Civil Engineering. She has always been passionate about helping and giving back to the community, dating back to when she was nine years old. For the last nine years Christina has collected items to donate to local homeless shelters and food pantries in place of birthday gifts. Last year, she was a part of the Stamford Answer to Cancer team, contributing to raising over $25,000 towards the Leukemia and Lymphoma Society.
We here at BVSA want to congratulate Christina once more for earning this honor of First County Bank Athlete of the Month for October. She definitely has made her presence felt here at the facility, whether she is training with her team, or volunteer coaching for our softball clinics, or walking around in her inflatable dinosaur costume on Halloween. We cannot wait to see where Christina goes from here! Congratulations!