End of an Era: Kevin Bruggeman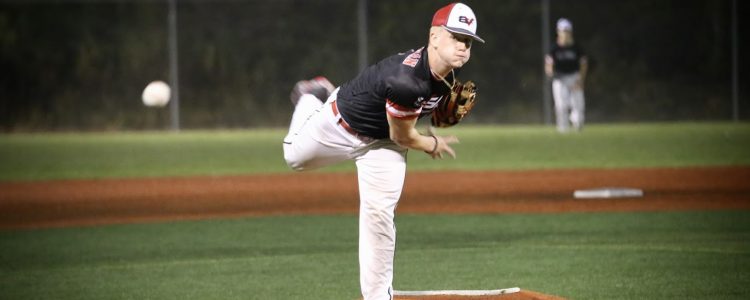 End of an Era: Kevin Bruggeman
Sunday, October 14, 2018 marked the end of an era for the BVSA Fury program.  One of it's greatest players played his last game wearing the #5 Fury uniform.  Kevin Bruggeman has been playing Fury baseball since 2013 when he was 12 years old.  The first time I saw him play, the year before, for an another organization, I new he was a player and a gamer.  Fortunately for us, he came to Fury the following year and I had the opportunity and great fortune to be his coach for his first few years.
Kevin exemplifies everything you want a player to be.  He plays with passion, energy and a level above most around him.  He plays with grit and determination and is looked up to by his teammates and opponents.  He works at his craft like no other and it shows on the field. His efforts and production helped lead our team to multiple tournament championships and tremendous experiences for all of us.  It seemed like whenever we needed a big hit or a big play, Kev delivered. He has a great appreciation for the game and although an intense competitor, there's always a smile and a joy for the game.
Kevin's primary position is catcher and he controls the game behind the dish the way great catchers do.  Even at 12 he had a great feel for the game and always called his own pitches very effectively. At SS or 3B (or wherever for that matter) he fortifies the defense effortlessly and with great consistency.  Just about every game I ever coached while Kevin was playing, either an umpire, the opposing coach or even opposing players would make positive comments about #5 after the game. It was very easy for most to see that Kev was special.
His tremendous work effort carries over to the classroom where Kevin has earned excellent grades.  His combination of talents has earned him a scholarship to play at Hofstra University where Kevin will be headed next fall.  
On behalf of all of your coaches, teammates and the BVSA/Fury family, I would like to extend our sincere thanks to Kevin for putting on the Fury uniform for all these years and setting the standard for all Fury players.  It was a great pleasure for me to be your coach but there is just one thing. I asked you countless times to take the mound and throw an inning or two and you never did. Someday, somewhere, your going to have to put on the #5 uniform one more time and throw a few pitches for me.  I'm sure it will be a 1,2 3 inning.
Best of luck #5,
Frank
Here at BV Sports Academy, we are a passionate group of dedicated baseball and softball instructors with some pretty impressive resumes. More importantly we have been educated by Bobby Valentine himself. If you don't know who Bobby V is, it's worth a quick google search. We teach a proven curriculum which has developed some of the finest talent in our area, and we're just getting started. BVSA was founded in 2006 and has been growing steadily ever since.
We have been blessed to be joined by some of the top programs around when it comes to other sports like lacrosse and soccer. Check out our valued partners section above to learn more about them. Parties and events for all ages, we do those too!
There is something for everyone at BVSA. We look forward to helping all athletes become the best they can be. If you would like to book anything or have any further questions, please email [email protected]