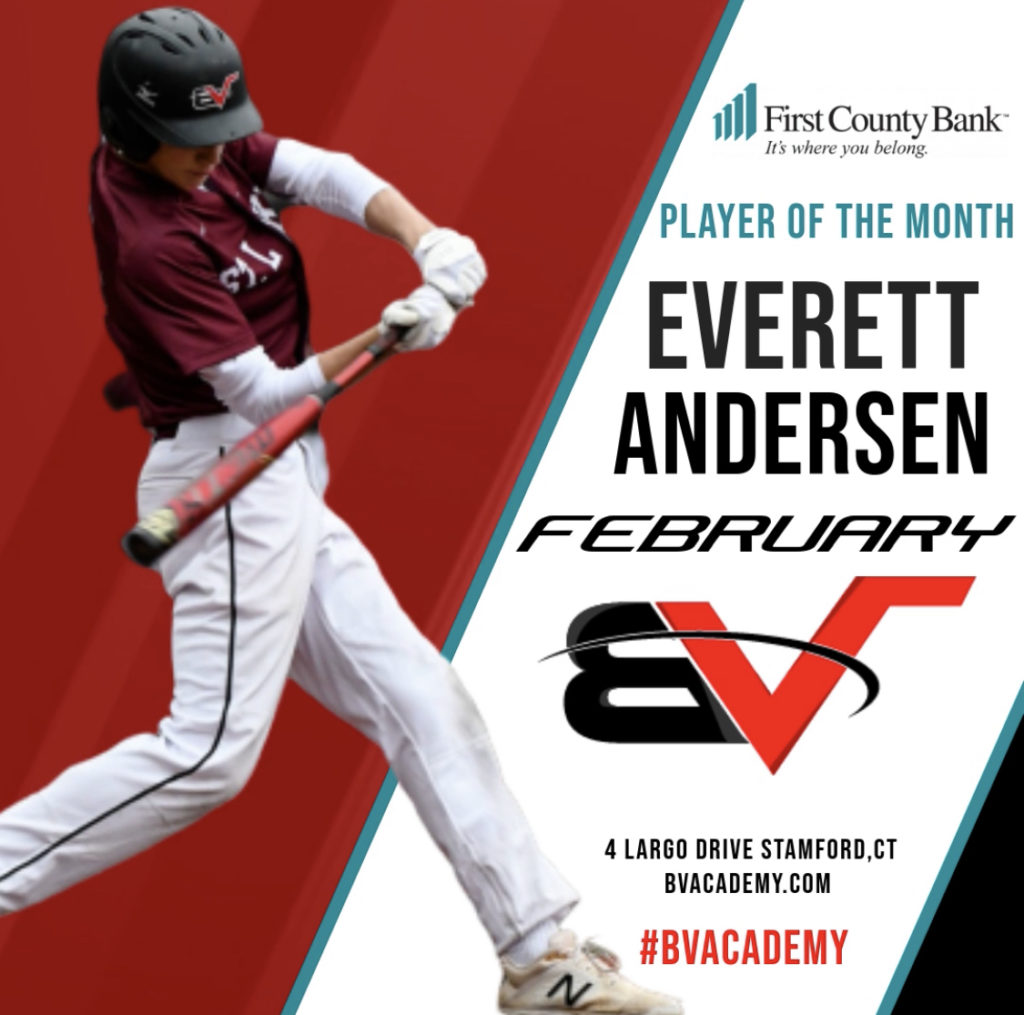 Our February Athlete of the Month is 16 year old Everett Andersen. Andersen shines as a great example of what young kids should aspire to be like and a kid that any parent would be proud of. A long standing member of the B.V.S.A. family, there are few that work as hard as he does across so many different sports and activities. His time spent in the cage, in the gym, on the field, and Andersen is a through and through competitor, with the heart of a great teammate, and someone who is a true coach's player. Andersen is currently a Sophomore at St. Lukes School and has been a member of the Varsity baseball team since eighth grade. This will be his third year starting and is more prepared than ever to make a large impact on the team.
Andersen is predominantly an infielder who has an electric arm off the hill, but has the versatility to play the outfield when needed. However, the hard work described earlier and the years of experience playing is what turned Andersen into the dynamic athlete he is. He like most started in the backyard playing around and wanting to compete with his brothers. Andersen is the youngest of five who all played high school baseball, which allowed for steep competition at home helping to progress him that much quicker. Organized baseball started for him at five years old and played for the Wilton District teams from the ages of seven through the end of little league (twelve years old). In this time, he was the only eleven year old ever selected to the Wilton LL 11/12/ District Team and in the following year as a twelve year old won the league's Home Run Derby. Simultaneously, Andersen started to play BVSA Fury in his ten year old year and has continued ever since. He continues to also be a program favorite, with coaches loving his approach to the game and overall attitude.
Andersen has been playing sports for St. Lukes since 6th grade; baseball, football, and basketball. All three taking a lot of time, commitment and effort to be his best. He would probably tell you himself that basketball was for the fun of it, competing with his friends. But football and baseball have an added element to it. He has been playing football since 3rd grade and has been the starting Varsity Quarterback for St. Luke's the past two years. Although, baseball is again where he stands out, being brought up to Varsity in eighth grade, starting at Shortstop and only missing three innings all season. Former St. Luke's Baseball Program Director and current Director of Operations at BVSA, Anthony Conte said, "I had the pleasure of coaching Everett at St. Luke's as an 8th and 9th grader. I'm also currently coaching him for our 17U BVSA Fury team and see him, what seems like everyday, working with Frank. Everett is a yes sir, yes coach type of kid. He's always ready to go, constantly works his butt off and has fun doing it; makes him a great dugout guy. I can't wait to see how things play out for him this season and in the future." An evident advantage to his game is training with Frank Ramppen and Ramp3 Baseball all off-season. Frank had this to say of Everett, "Everett and I have been working together for 6 years. He is so deserving of this acknowledgement as you can see by the achievements and comments above. I could go on and on and add to the baseball, athletic accomplishments but as a dad of two young athletes I feel that would be selling him short. Yes, he is a hard working, tremendous athlete and teammate but above and beyond that, what an outstanding young man and human being he is. We normally work together 2 and sometimes 3 days a week since he was 10 years old. Week after week, month after month and year after year he is so consistent. His manners, energy, enthusiasm, smile and caring demeanor are infectious. It has been an honor for me to work with such an outstanding young man. I am so proud of him in so many ways and look forward to following his incredibly bright future."
Outside of baseball and his sports, Andersen is an honor student at St. Lukes and maintains a 3.5 GPA. Additionally he sings a cappella at the school with the group No Strings Attached and there is a great video on Ramp3's Instagram of this! Andersen with the limited time left also ballroom dances and has been since he was a fifth grader. All of this going for him, training for two sports and playing for multiple teams throughout the year he really makes the most of his time. The now 6'3", 180lbs student-athlete plans and is working toward college baseball at a demanding academic institution. With his drive, perseverance, and overall work ethic he will surely achieve this. We at B.V.S.A. are proud to have him representing us and are excited to see what the near and distant future holds for him.