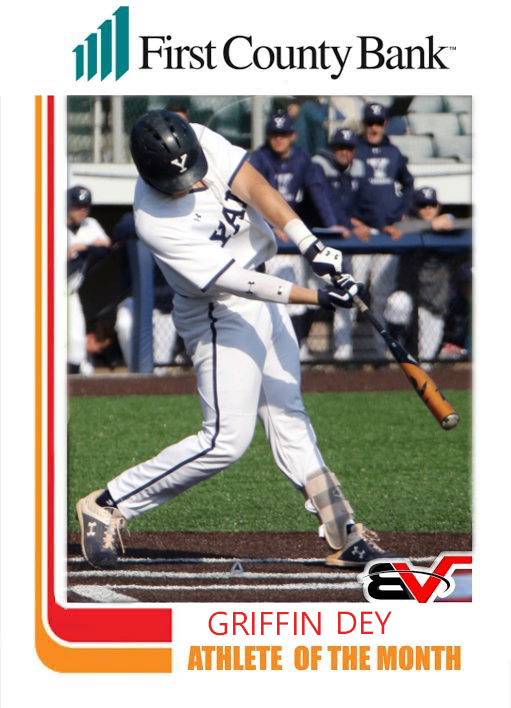 We are excited to announce our May Athlete of the Month, 22 year old Griffin Dey! Dey a longstanding member of the B.V.S.A. community has been working hard year after year to continue to progress his skillset. Closing in on reaching a level many work for and few achieve, he sets himself apart in a multitude of ways. Griffin the ball player on the field can be described as a calculated and dynamic athlete who has the ability along with strength to send the ball into orbit.  Dey recently wrapped up his Senior season at Yale University, while also graduating with a Bachelor's in Political Science to finish his academic tenure at the school.
Griffin was primarily a first baseman in his time at Yale but played third base in his senior year. He also pitched mainly as the team's closer when the opportunity arose. Prior to Yale, Griffin grew up in Pound Ridge, New York and went to John F. Kennedy Catholic.  An impact player there, and a stellar student it was clear Dey was destined for D1 Baseball. But to help get his skillset as a ball player Griffin found himself as a student of Frank Ramppen, Ramp3 Baseball and BVSA. Frank the managing partner of the Academy also operates his own elite level training company for players who are truly committed to the process.  Dey continues to work with Frank anytime he is home or needs a quick tune up. Frank had this to say about Yale's slugger, "Griffin hits the ball as hard as anybody I've seen in our area and he does it with regularity. He has a legitimate power factor, is a hard worker and is a tremendous person."
Dey worked hard to make sure he was impactful in the middle of Yale's lineup. After a Freshman season filled with struggle he took a major jump up his Sophomore year. His Sophomore year he was an Ivy-League Honorable Mention, leading his team with 10 home runs, driving in 40 and having a 6-0 record with a 2.70 era.  His Junior year he earned a spot on the 2018 ABCA/Rawlings NCAA Division I Northeast All-Region Second Team and Named 2018 NEIBA Division I All-New England First Team. In his final season Dey batted .362 with 11 home runs, and 44 driven in. Griffin was a mainstay in the middle of the Bulldogs lineup. June 3rd is fast approaching Griffin's baseball career is set to reach a new level. With the Amateur Draft being the day, Dey gets the call saying he is good enough to play professional baseball. An ex-teammate, Rich Slenker, who recently got the call had this to say about him, "He hits until his hands bleed. Then keeps hitting. Hardest worker I know. Never had more fun playing baseball than I had playing with Grif. He knows how to keep things in perspective and enjoy the little things in the game."
Congratulations to Griffin on this honor! We look forward to seeing what team will give him the chance to reach the ultimate level of playing on June 3rd. Keep up all the hard work and being a great example for the youth athletes we have coming through the academy.