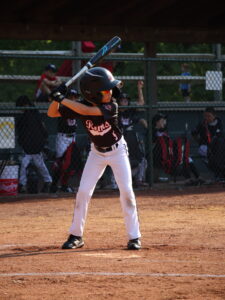 Bobby Valentine's First County Bank Athlete of the Month for June is nine year old Jackson Koeppl. Jackson first started playing baseball three years ago when he was six years old, and was almost immediately thrown a curveball. The COVID-19 pandemic put a pause on his spring 2020 New Canaan rec baseball season, but that did not stop him from continuing to practice and progress.
Jackson played constantly with his Dad in the backyard, doing anything from swinging a bat to long tossing. He was able to restart rec ball in the fall before joining 8U New Canaan Travel Baseball in spring 2021. As his commitment to baseball grew, Jackson wanted to go a step further and began training with BVSA this past January. His last six months can be summed up by his latest Spring Championship Game for his 9U New Canaan team.
Jackson came in to pitch in the 2nd inning with his team already down 4-0 to Danbury on their home field. Ten strikeouts later, he and his teammates were putting medals around their necks celebrating a 10-4 victory. Jackson pitched five innings and only allowed one baserunner, a sixth inning single. His final line read…
5 IP, 0 R, 0 BB, 1 H, 10 Ks, W
"His stuff is electric. He is in complete control mentally when he takes the mound, regardless of the results. He can be dominant or he can be hit hard, his body language and his mindset does not change at all. I have never seen someone so young and understand this game so well." – Joe Wanderlingh, BVSA Instructor and New Canaan Coach
Not only does he help himself with his demeanor, but he wears off on the rest of the team. The excitement and joy on his face when he plays is truly contagious. He loves the game, his teammates, and helping his team any way he can.
Jackson is a soon to be fifth grader that really excels in the classroom. When he is not playing baseball, he is definitely playing some other sport like flag football, basketball, and skiing.
As if that wasn't enough for him, he continues to challenge himself and take on new things like archery, ninja warrior obstacle courses, and chess. He loves rooting for a wide variety of different teams like the New York Yankees, New England Patriots, New Orleans Saints, and Florida Gators.
We here at BVSA want to congratulate Jackson once more for earning this honor of First County Bank Athlete of the Month for June. His progress in such a short amount of time is truly inspiring, and it is clear that this is just the beginning for Jackson. We are so excited to continue watching him grow and lead by example for everyone that takes the field with him!