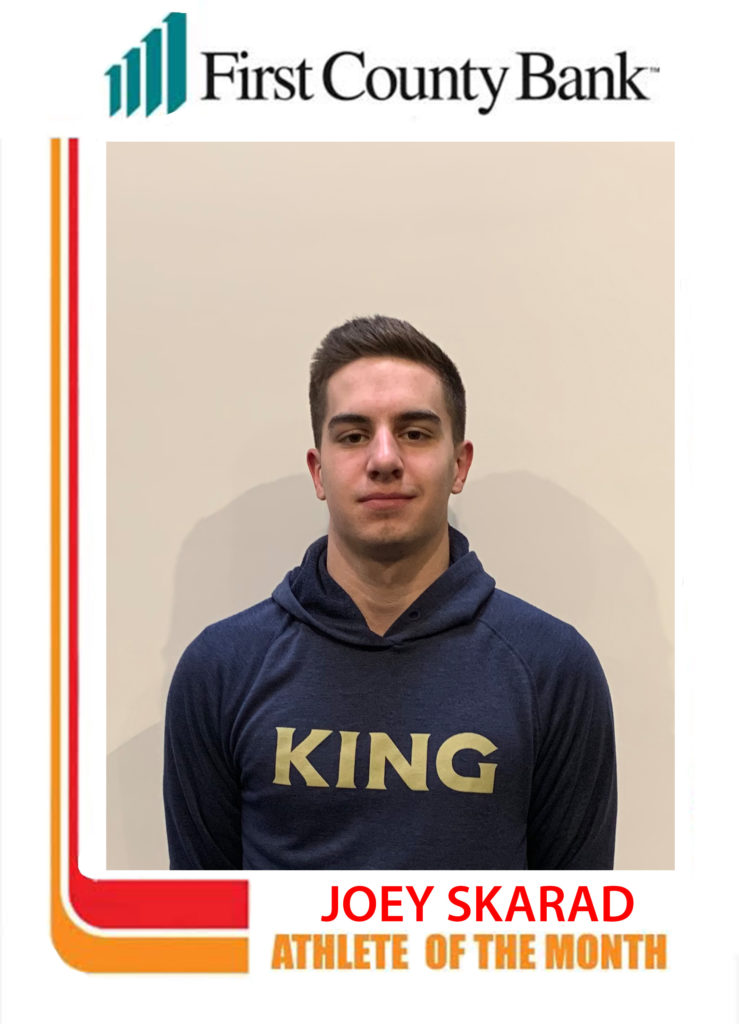 Our December Athlete of the Month is 18 year old Joey Skarad. Skarad has not just been dedicated to being an excellent baseball player since he could hold a bat, but also a dedicated member of the baseball community at B.V.S.A. Without so much as a second thought, there are few names that you can say out work Skarad in the cages, gym or even at work. He is a fierce competitor, with an unmatched drive, and internal motivation to out work what he did yesterday. Skarad played at Westhill through his junior year and transferred to King. Now a senior, he is a captain and has been accepted, with a roster spot to Sacred Heart University.
Skarad is primarily a catcher who can play shortstop and pitch as well. He has played both Fury and X-Fury in the history of B.V.S.A. Both were great opportunities for Skarad to play with very talented, focused, older players who helped cement the work ethic needed be a frontline player. He has also played for other programs since but all who know Skarad know that B.V.S.A. is his home. Besides training here, he is currently a B.V.S.A. employee, an athlete training with Overdrive and an employee at Instant Replay. All highlight his work ethic, the love of the game, and the fact that if he could he would probably sleep here. Carrington one of the owners of Overdrive had this to say, "Joey is one of the hardest working kids in the gym. He is very consistent with his attitude, he is always motivating the other athletes in the gym and Skarad never has any excuses."
Skarad finished with both the recruiting process and his acceptance into SHU is able to focus on enjoying the rest of his senior year and crushing baseballs come the high school season. He has chosen to study economics, while continuing to chase his passion of baseball. Skarad is a New York Yankees fan and Dallas Cowboys fan. He also grew up having Derek Jeter as his favorite player and role model on the field. Skarad is a facility favorite and all here look forward to seeing what his future holds for him both on and off the field.