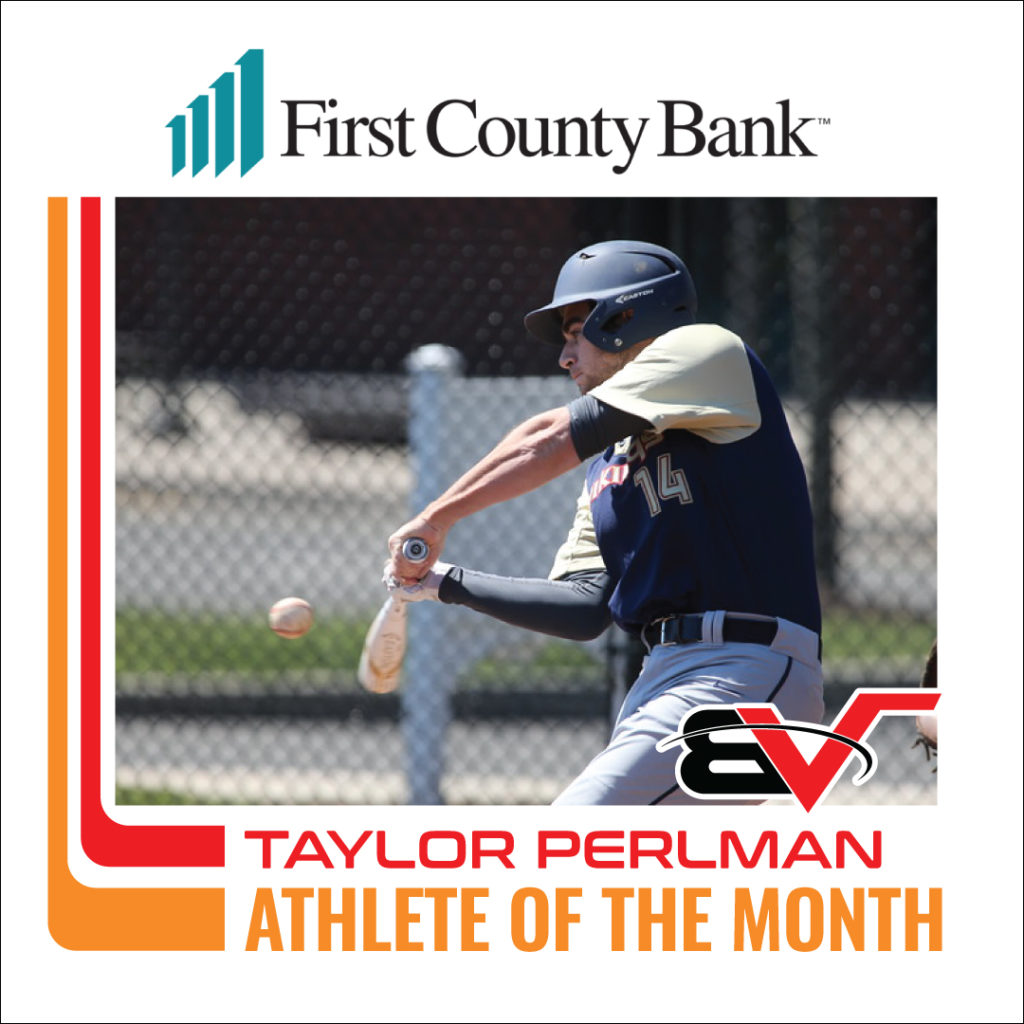 Our September, First County Bank, Athlete of the Month is 18 year old Taylor Perlman. Perlman is one of the longstanding members of the B.V.S.A. community that has also been involved in Fury, Scouted Sports and Ramp3 Baseball. There are few coaches who work here or other athletes that train at the Academy who do not know Taylor Perlman. Taylor brings the lighter side out of those coaches who have been lucky to have him as a member of their team, as well as the players he battles beside. This is not without bringing one of the stronger work ethics in the building as well. 
Outside of baseball Perlman is a committed student, leader, and a member of multiple communities that he is able to bring his unique style of thinking into. Now a Senior, Perlman is entering his third year on King School's varsity baseball team and is a Captain for this upcoming season. King's Coach, Ryan Quinn had this to say "Taylor was voted captain by his teammates and coaches after a very successful junior campaign. He was our designated hitter throughout the season and was right in the middle of a very potent offense. He will be looked upon to provide leadership on a young King team in 2020."
Perlman primarily a first basemen will also see time in right field, on the mound, and serve as the team's designated hitter. During his Junior season last year he hit over .300 and was a part of the FAA championship team who made a run in regionals (losing in the finals). He has been able to reach this next pinnacle in his baseball career due to his countless years playing Fury (since he was 8), the academies travel program and training under Frank Ramppen, owner and founder of Ramp3 Baseball. Taylor has been a Ramp3 member since he was 10 years old. Frank had this to say about Perlman, "Taylor has been one of my favorite students through the years.  He has worked so hard to get to this level and it's been fun every step of the way.  He has the unique ability to combine hard work, focus and fun. You can expect big things out of Taylor in years to come."
However, what separates Taylor from other previous 'Athlete of the Month' recipients we have had in the past is truly his accomplishments off the field. In his Junior Year alone Taylor achieved a 4.82 GPA (weighted due to his 6 AP courses) and a cumulative 4.5 GPA (also weighted). He will have completed 13 AP courses in his high school career when this school year ends. Perlman also scored a 35 on his ACT standardized test all while being the Leader and Founder of King's, Sports Business Club. Additionally he is Head Ambassador for King and the Vice President of the Upper School. Taylor also spent part of last summer interning for Duke's basketball team as the Summer Manager and a member of the social media team. Along with being a featured NBA writer for Bleacher Report on multiple occasions. Perlman has shown to be an all encompassing student-athlete.
Perlman even with these credentials is still yet to find out exactly where he is going but one thing for sure is it will be an opportunity that he earned and most only dream of achieving. He will likely be studying Sport Management in college while also exploring other topic areas to continue to broaden his horizon. As far as Taylor Perlman the sports fan it is all about those Duke Blue Devils no matter what the sport. Every coach, teammate and person Perlman comes in contact with knows the level he can reach and everybody is excited to see how far and how high he goes.