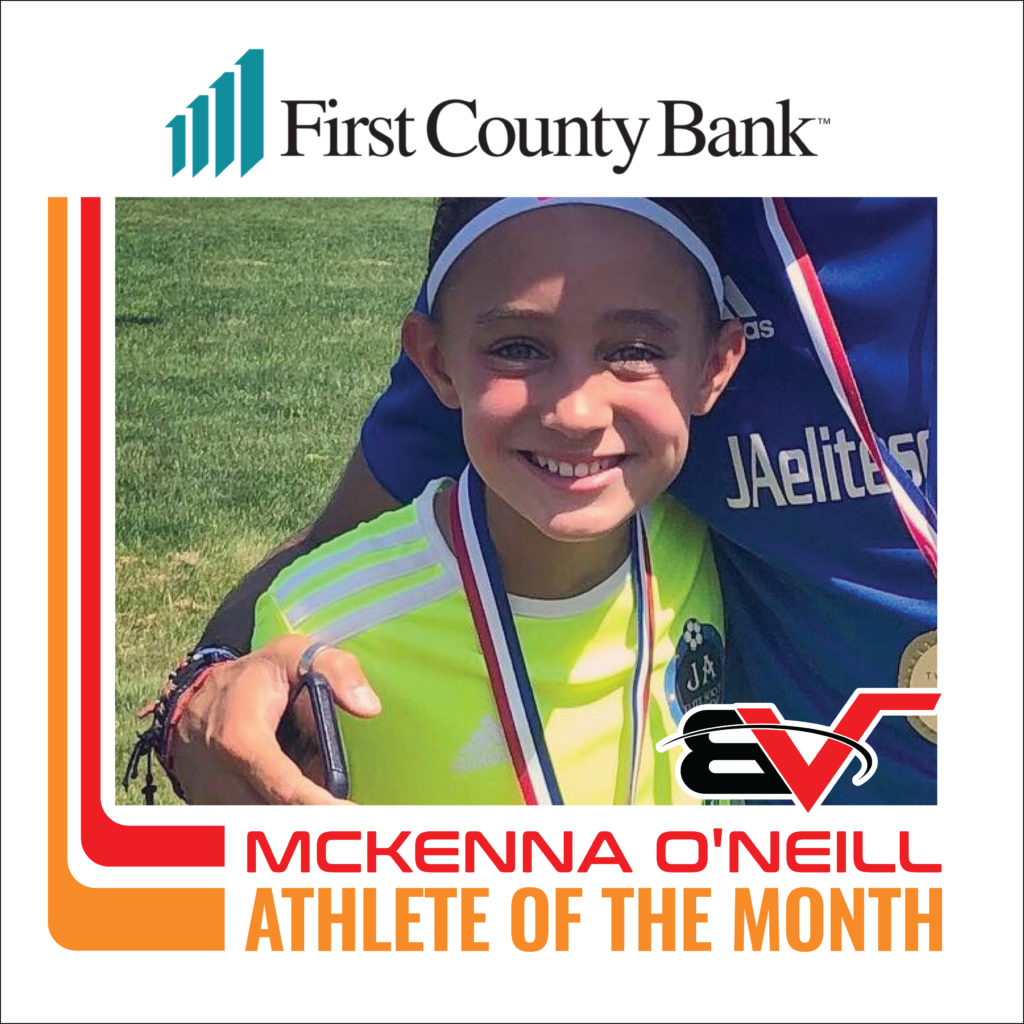 Our First County Bank August Athlete of the Month is 9 year old McKenna O'Neill.  O'Neill is a dedicated member to JA Elite Soccer Academy and an athlete who wants nothing more than to be her very best. McKenna exhibits qualities such as leadership, hard work, and dedication that any coach would love to have in all their players. She brings a level of intensity not just to games but practice as well that help raise the level of energy and fight to be better in her teammates.
O'Neill played for both JA Elite Summer Select 08' and 09' teams and will be playing for Chelsea Piers this fall. McKenna also participated in year-round clinics and camps for JA Elite as well. Over this past summer her competitive play has not just made her an invaluable member to both teams but someone her coaches call on to be versatile on the field. O'Neill going into the year had mainly been a striker but as the season progressed started to play mid-field as well. Founder of JA Elite and Coach Jhonny Arteaga had this to say, "Mckenna has been terrific the entire summer. Her leadership qualities on and off the field are great to see in a young athlete. She leads by example, she's always working hard and is very coachable. We are lucky to have so many great athletes and overall great kids in our program but the entire JA Elite coaching agreed that Mckenna is our Athlete of the month. This is recognition to the work that she's put in, not only during this Month but the entire year. We wish her a great Fall season with her club and look forward to having her back this Winter."
O'Neill outside of soccer plays basketball as well for two age groups and runs point for those teams. Last winter she was part of a boys team and did not skip a beat, her competitive nature mixed with her great attitude made it that much easier. Additionally McKenna excels at tennis as well, only losing one match this entire summer. It is important to reiterate that she is successful all while being a great teammate and a coach's dream player. O'Neill by no surprise is the same person in the classroom as well. Hungry to learn, dedicated, hard working, and receiving great grades. 
O'Neill is  still young, in elementary school, and progressing in all aspects has big aspirations of where her work ethic will take her. Everyone here at Bobby Valentine's Sports Academy and JA Elite Soccer Academy look forward to seeing what her future holds in store both on and off the field.