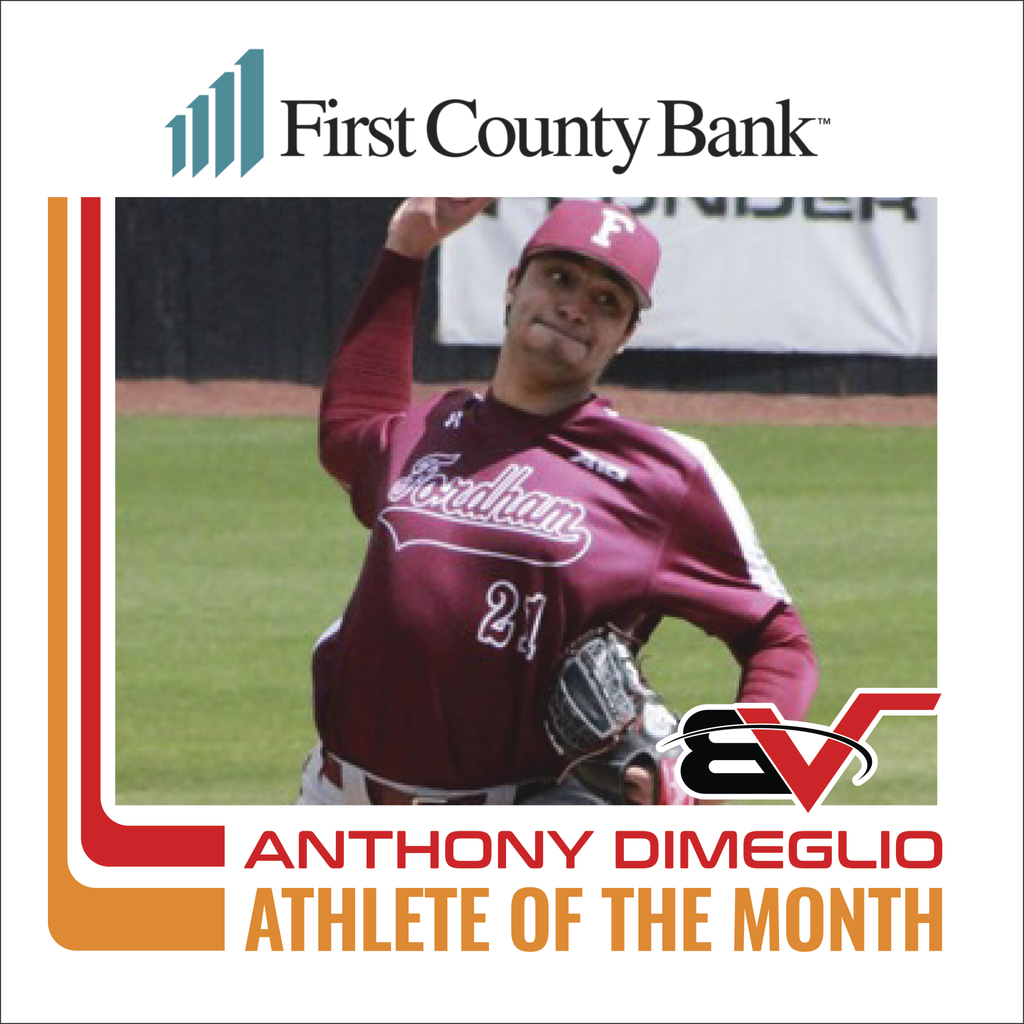 Our June, First County Bank Athlete of the Month, is twenty two year old Anthony DiMeglio. DiMeglio is not just one of the most talented arms to come through the Academy but also a great example of what hard work helps create. Ant did not rest on the fact he was talented but doubled down on it and invested the time to foster it. This is why he had the great opportunity to pitch at Fordham University, a Division 1 program. DiMeglio is a ferocious competitor who gives you everything he has and more. With a power fastball and a hammer curve Ant can make an at-bat very uncomfortable for any hitters. DiMeglio additionally has of earlier this year finished with a Bachelor's Degree in Communications from Fordham.
Before Fordham, Anthony was a standout player at Darien High School. He was a three year varsity starter, as well as a captain his Senior year. DiMeglio earned All-FCIAC honors twice and First Team honors in 2015. In addition, was named First Team All-Connecticut by MSG Varsity. DiMeglio was a valuable member of multiple Fury teams over the years and was a beloved player by his coach Anthony Conte. Coach Conte had this to say about him, "Anthony always threw a heavy ball, knew how to spin a curveball and loved to compete.  More importantly, he always has a smile on his face and learned to work through adversity with a handful of injuries over the years. I was pumped that he got the opportunity to play at Fordham and really develop into the pitcher he is today. We are excited to see how far he can take this!!"
In his Freshman year at Fordham, Anthony appeared in 24 games (all relief appearances), which was the 8th most ever in a single season for a pitcher. He recorded his first collegiate strikeout, win and save this season as he learned what this level of play was all about. His Sophomore season was a tale of two tapes. DiMeglio showed signs of dominance and taking his pitching to the next level. But he was unfortunately hit by a line drive early in the season versus Canisius, costing him a month of his season. Anthony's Junior season was his coming out party, where he set career highs in every statistical category as well as leading the team in strikeouts and wins. He also threw a complete game in a tough lose to George Mason in the Atlantic 10 Championship. DiMeglio continue to shine as a standout pitcher for Fordham and finished his career there with solid numbers.
Rob DiToma, current Head Coach at FDU, had the opportunity to coach Anthony at Fordham.  He had this to say about Anthony "From the minute Anthony walked on campus his freshman year he had something to prove.  He truly worked himself into a pitcher that we could not ignore.  He earned every inning he received, and at the same time the respect of his teammates and coaching staff.  It was a pleasure to watch him develop and grow into the person he became both on and off the field.  There's no doubt the Fordham program would not have accomplished what it has the last four years without Anthony."
Since finishing his playing career and academic tenure at Fordham University his next opportunity has presented itself. Anthony was recently signed to an amateur contract by the Milwaukee Brewers. He earned this, all the hard work, along with years of sacrifice paid off with the ability now to go and continue the dream of being a major league player. We could not be happier or more excited for you here at the facility and want your journey to be an example to all the upcoming players in the area.  Perseverance is a major contributor to achieving your dreams!