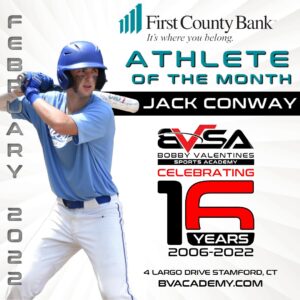 Bobby Valentine's First County Bank Athlete of the Month for February is eighteen-year-old, Jack Conway. Baseball is not just a game for Jack, it is a lifestyle. You would have to go back 16 years (when BVSA first opened their doors) to where Jack first fell in love with the sport. All the way back from the age of two, Jack was hooked.
Jack plays the game with great passion and tenacity, while at the same time, spending hours and hours analyzing statistics, history, and current and former players alike. You could call Jack a utility player, but only in the greatest form of the phrase. He is a utility player in the sense that he plays numerous positions, and plays them extremely well. He is the definition of versatile. He wants to learn about every position, and thrives on getting better and better at each and every one.
When Jack was twelve years old, he realized he had a great opportunity to play this game at a high level. Since then, it's been full steam ahead, working relentlessly to accomplish his goals. Coach Anthony Conte had this to say; "Jack and I had our first session on June 6, 2014 and WOW has it been such a fun journey watching him grow into the young man he's become! Jack is one of those athletes that comes in, listens, applies, and works his tail off to achieve his goals. He's one of the few local athletes I know who wakes up before school to hit the gym so he can dominate the rest of the day! Fun to work with someone who knows how to work, compete and still be one of the kindest people in the room."
Not only is Jack a work horse on the field and in the cages, but he also is a tremendous student at Darien High School, where he will finish this past semester with a 4.0 GPA. He is still considering all of his college opportunities, but the plan is to major in Business. Wherever he ends up, he is confident that baseball will be in his future plans.
As a mentor and a role model to so many kids in his community, from baseball to church and town organizations, Jack continues to share his knowledge of the game, and the lessons he has learned throughout this journey. Baseball is so much more than just a game or a sport to Jack, it is something that has helped mold him into the outstanding young man he is today.
We here at 
BVSA
 want to congratulate Jack once more on earning this honor of First County Bank 
Athlete of the Month
 for February. His dedication and commitment to the sport speaks volumes, but the life lessons and the impact he is able to make on so many kids is truly remarkable, and why we all choose to be a part of this great game. We are beyond excited to see where Jack goes from here!