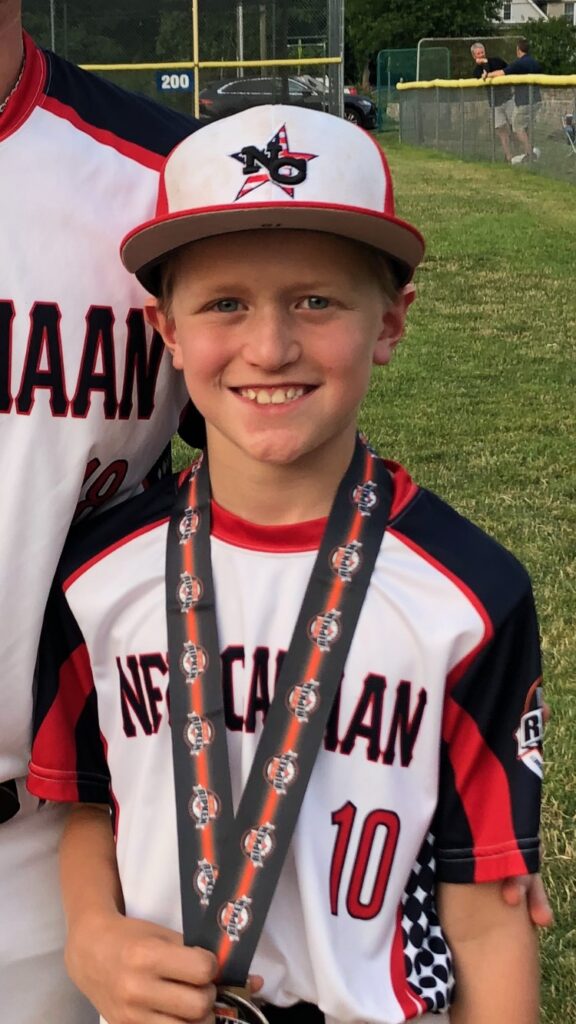 "I have known Matthew Scholtz pretty much since my first day here at BVSA almost two years ago now, and I am constantly blown away with the different gears he possesses…
One night he can be in here talking Giants football and taking jump shots when picking up baseballs in the cage, and the next night activating "hulk mode" and blowing fastballs by hitters. He is an absolute pleasure to train and to coach, and I'm excited to watch him continue to grow into the player he is." – Joe Wanderlingh, BVSA Instructor
Bobby Valentine's First County Bank Athlete of the Month for April is Matthew Scholtz. Matt is currently in fourth grade and a part of the 10U Red team for New Canaan Travel Baseball. Last year as 9U Red, his team made it to the Regional Semifinal in West Hartford.
Matt started playing baseball when he was in preschool, and has played New Canaan baseball every spring and fall season since.
It took about two months before Matt was able to resume all activities, including joining his basketball team by the end of January and resuming his baseball lessons at BVSA.
Matt has returned to his old self this spring, dialing up his fastball and mixing in his new changeup to keep hitters off balance. He kicked off the month of April going 2-3 with a RBI and struck out five over two innings.
Baseball and basketball are just a few of Matt's many talents. When not on the field or court, he plays keyboard in a band at School of Rock and has earned himself a black belt in Taekwondo a couple years back. 
We here at
BVSA
want to congratulate Matt once more for earning this honor of
First County Bank
Athlete of the Month for April. He is as tough as they come, having to go through more than any ten year old should. We here at BVSA love having him around the facility and are beyond excited to continue watching him grow! Congratulations, Matt!