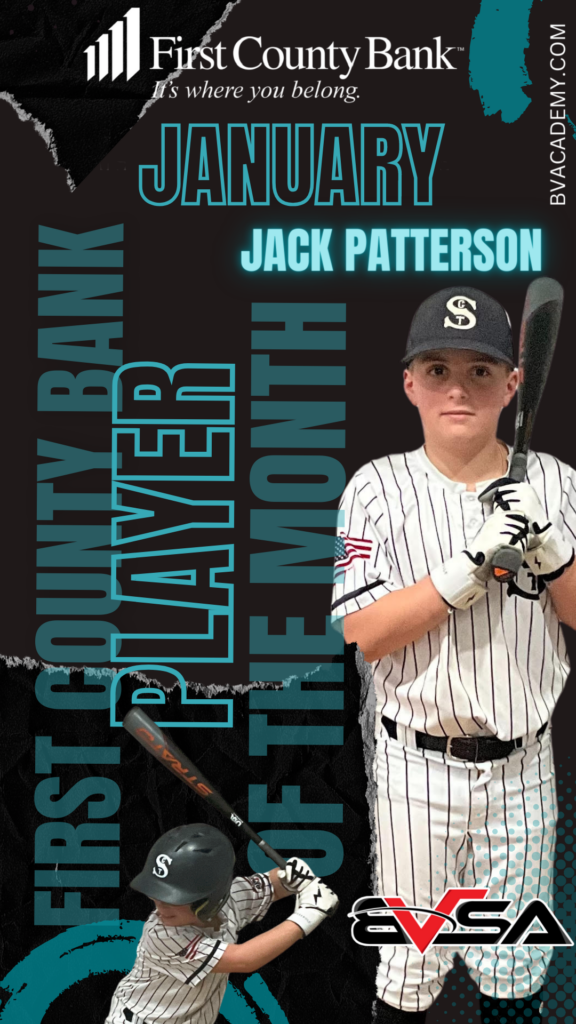 Bobby Valentine's First County Bank Athlete of the Month for January is Jack Patterson. Jack currently plays for Stamford Little League and Stamford Travel, and spends more time at BVSA than some of our own staff.
"Jack Patterson is easily one of the most consistent and dedicated kids we have in the building. His drive to become a better player, let alone athlete, is unmatched with the amount of swings he takes, pitches he throws, and simply minutes here in the building…
It is a pleasure to have Jack here on a regular basis and we are seeing the development of one of the next great baseball players from this area right in front of us!" – 
Justin Virgulak
, BVSA Director 
Jack, who recently turned 11 years old, played over SIXTY games last season, batting over .500! As if that wasn't impressive enough, he had more extra base hits than singles AND hit his very first home run! On the mound, he averaged over two strikeouts per inning. When he wasn't on the mound, he also played first base and center field.
"Relentless. That's the first word that comes to mind when I think of Jack. He simply does not stop. I feel like every day at some point he ends up in the cage next to me putting in work. I've seen him come in after having the flu, nothing stops him from accomplishing what he wants to accomplish." – 
Joe Wanderlingh,
BVSA Instructor
Jack is currently in fifth grade at 
Newfield Elementary School
 where he excels in the classroom. When he is not on the baseball diamond, he is on the football field playing for the 
Stamford First Down Club.
Whatever spare time he has left, he loves to play wiffle ball and football which comes as such a big surprise!
We here at BVSA want to congratulate Jack once more on earning this honor of 
First County Bank
 Athlete of the Month for January. Safe to say this is just the beginning for Jack, and we cannot wait to see where he goes from here. It is an absolute joy seeing him around BVSA, and we look forward to continuing watching him grow into the baseball player that he is. Congratulations Jack!