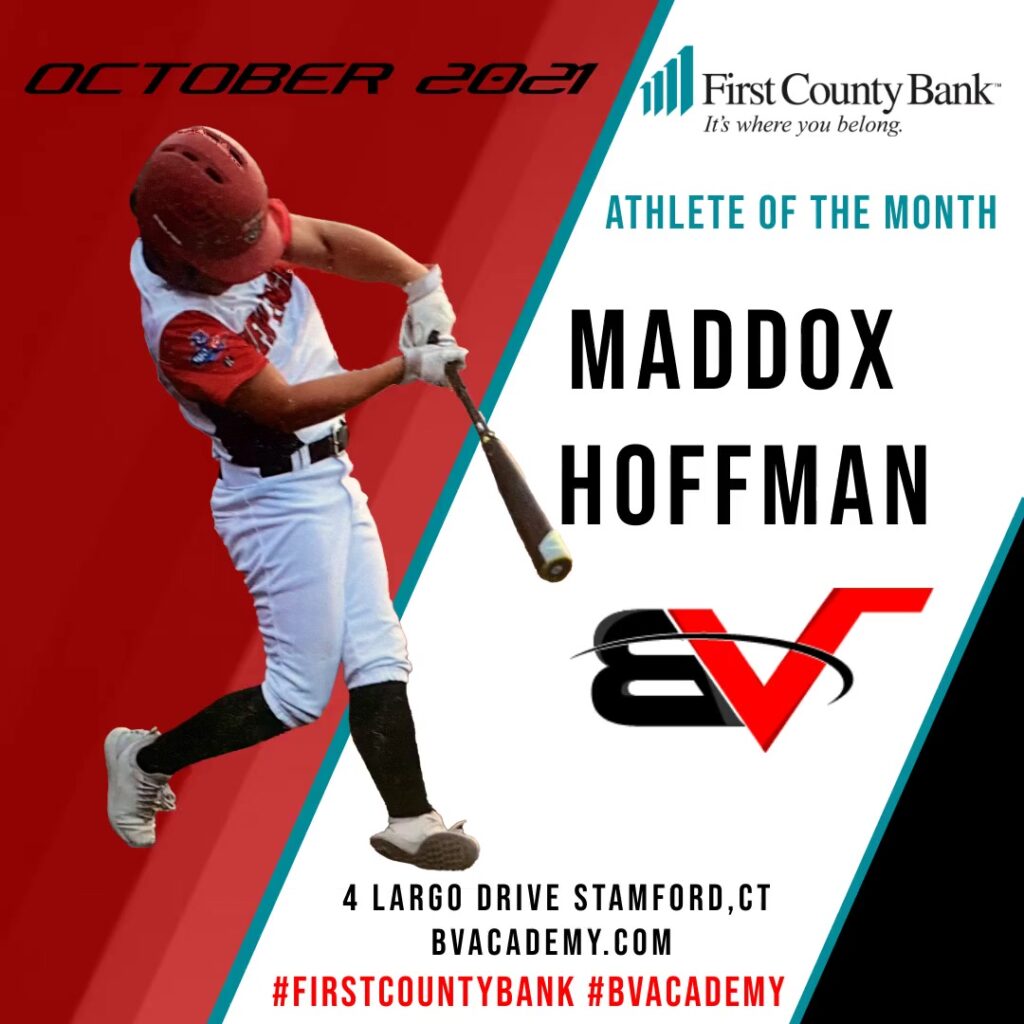 BV's First County Bank Athlete of the Month for October is thirteen year old Maddox Hoffman from Saxe Middle School. Maddox, also known around friends, family, and teammates as "M", is the definition of a multi-sport athlete. He prides himself on being exactly that as he steps foot on the baseball diamond, the football field, and the basketball court throughout the calendar year. His "down time" from all of that comes on weekends during the winter months where he laces up the skates and hits the ice for some ice hockey. Ask him which sport is his favorite and he will probably go with whichever one he just finished playing. Safe to say, he loves it all.
Baseball has been particularly kind to Hoffman recently. He was fortunate to be a part of a World Series team this summer, in which he pitched and played shortstop for the New Canaan Rams. He finished his 2021 spring and summer campaign with a remarkable .433 batting average in 134 at bats. Out of those at bats, he led the team in doubles with fourteen. His numbers certainly speak for themselves but his leadership on the field is what makes him stand out from the rest. 
Just in case Hoffman's baseball resume wasn't impressive enough, he is also the captain of his seventh grade football team. What position does he play? Quarterback, of course. His team is headed to the championship game, with him leading the charge with his 1,000+ yard, 12 touchdown season. Did I mention he plays linebacker too? At this point is anyone even a little bit surprised? Hoffman was voted on by his teammates to be captain this season, and that honor and accomplishment is extremely well deserved. 
"He is probably the best quarterback in our grade, and it's crazy how he is always working so hard to be even better. He does a great job at being a leader." – Henry Reagan, Football Teammate
Academics are just as important as what athletes do on the field, and Hoffman is no exception to that. He not only maintains straight A's in the classroom, he takes it a step further. He has recently started community service initiatives in order to give back as he is very thankful for everything he has. On top of that, he also does baseball lessons for his two younger brothers, Cole and Brody, as well as with some of their friends too. Last but not least, he is in the process of launching his own baseball card business. 
Success is something Hoffman is very familiar with so far in his young life. Success comes with respect for the game, leadership on and off the field, and becoming a role model for those that come after him. The leadership comes with a ton of responsibility and accountability. Hoffman has become that role model for his two younger brothers, giving them some big shoes to walk into as they continue to grow and get older as well. 
"Maddox is one of the most consistent, diligent, and competitive athletes we have working in the building. At such a young age to be so conscious of the process it takes to become better and then dedicate the time to it is not just a given. This work ethic extends into the classroom and his side hustles as well and it is amazing to see, but more so be a small part of." – Justin Virgulak, Assistant Instructor 
We here at BVSA want to congratulate Hoffman once more on earning this honor of First County Bank Athlete of the Month for October! The hours of hard work and success on the field do not go unnoticed, and the leadership and the way Hoffman carries himself on and off the field are second to none. We are so excited to see what the future has in store because it is only going to get better from here!